In Today's Newspaper of Intekhab Hub DGPR Balochistan Announces Tender For Balochistan Provincial Assembly Secretariat. So candidates who are Interested In this Tender Must Complete the details by reading below Add. This Shows Complete Details of Balochistan Provincial Assembly Secretariat 2023 tender Which were published in today Newspaper.
Kindly read this advertisement which shown in below that if you fullfill thses requirements then you welcome to apply for this. All the tender details have Been Shown In below and as well as in Mentioned advertisement which portrays the complete details of the tender.
This Post shows that this tender is Only for those who meets the criteria of department then he wil get and will be approved for tenders. Balochistan Provincial Assembly Secretariat invites electronic bids as per Balochistan Public Procurement Regulatory Authority (BPPRA) Rules, 2014 from well-reputed, established and experienced FOOD & REFRESHMENT SERVICES providers having registration and active status of NTN and BST with Federal Board of Revenue and Balochistan Revenue Authority respectively for supply of Food & Refreshment Services for the financial year.
Details About The Current Tender Balochistan Provincial Assembly Secretariat
Applicants Belongs to balochistan can now apply In Balochistan Provincial Assembly Secretariat Tender which announced in 2023.
Sr.
No
TITLE
DETAILS
1
Location
Balochistan
2
Posted On
11 August 2023
3
Deadline
23 August 2023
4
Organization
Balochistan Provincial Assembly Secretariat
5
Newspaper Name
Intekhab Hub
6
Requirements
Check Below Add
7
Eligibility
District Balochistan Candidates Can
Apply
Eligibility and Requirements of the Current Tender
The bidder shall not be blacklisted by any of Provincial or Federal Government Department, Agency, Organization or Autonomous Body or Private Sector Organization anywhere in Pakistan.
Detailed bidding document can be downloaded from B-PPRA website www.bppra.gob.pk.
Single stage two envelope bidding method shall be used as per Rule 41-(3) of the BPPRA Rules, 2014.
Contract will be awarded as per the evaluation criteria mentioned in bidding document.
Bid can only be submitted electronically on or before Wednesday 23 August, 2023 (11:00 am) through supplier dashboard at the website of B-PPRA.
Technical bids will be opened on Wednesday 23° August, 2023 (12:00 pm) through Electronic Public Procurement System (EPPS) at the Committee Room # 05 of Balochistan Provincial Assembly Secretariat, Zarghoon Road Quetta. Financial bids of technically qualified bidders will be opened on the same day at (12:30 pm).
Bidding document fee of Rs. 1000/- shall be submitted through Green Deposit Challan in National Bank of Pakistan.
The bids must accompany Bid Security of Rs.200,000/- in the shape of Call Deposit issued from a scheduled bank in favor of Secretary Balochistan Provincial Assembly Secretariat.
Performance Security (2% of the contract value) in the shape of Demand Draft issued from a scheduled bank in favor of Secretary Balochistan Provincial Assembly Secretariat will be required from successful bidder.
10. Bidders shall quote their rates inclusive of all applicable taxed and duties for each and every item enlisted in bidding document.
The Balochistan Provincial Assembly Secretariat reserves the right to reject any or all bids as per provisions of B-PPPRA Rules, 2014
You can check the advertisement for contact details and other requirements for the cureent tender, everthinng mentioned in the add.
Details are Shown In Advertisement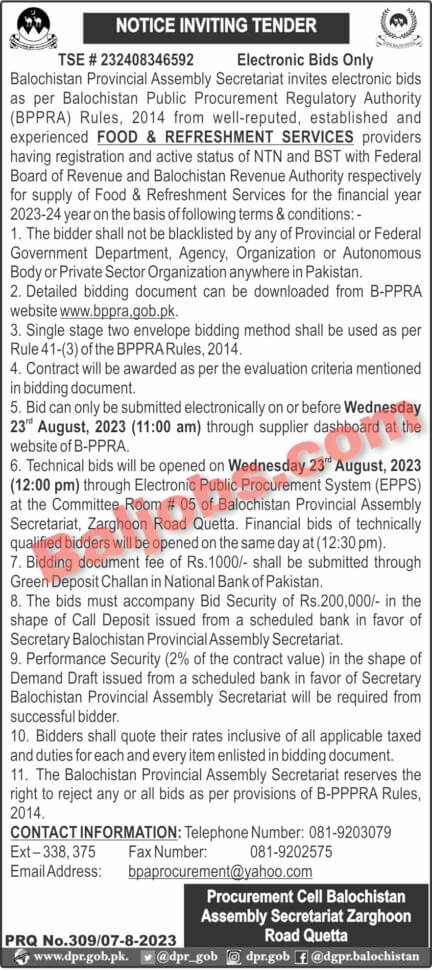 Thanks For Visiting Our Website Baljobs and Hope You Like this Post and Dont forget to share it with your friends and family and Also Invite Your Colleagues to Check Our Jobs Site that they will get Easily All Latest Tender Notification Easily.